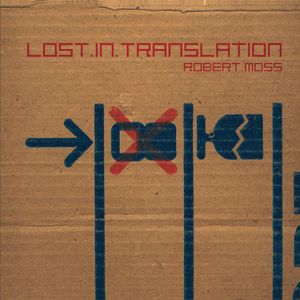 LOST.IN.TRANSLATION
This album's title track, Lost in Translation, was composed for a 1999 video artwork of the same name by experimental video artist Peter Callas, focusing on the mixed cultural melting pot of Brasil.
All pieces on this 2003 album are extrapolated extensions of ideas originally springing from various intercultural screen compositions.
Composed and produced by Robert Moss.
Lost in Translation
The Spirit is Here, Regardless
Dancing Eyes of Thought
Everything is OK
Lesbian
Digging Up the Bones
Cultural Revolution I 
Cultural Revolution II
Cultural Revolution III
Lost in the Jungle I
Lost in the Jungle II
Lost in the Jungle III
Goddess of Freedom
Life's Embrace

He Sets Her Free 
Veren Grigorov | Violin and Viola 
Michal Wieczorek | Cello
Yama Sarshar | Afghani Tabla on Dancing Eyes of Thought and Life's Embrace
Dale Caldwell | Voice on The Spirit is Here, Regardless  
Anna Broinowski | Voice on Lesbian
Suzy Connolly | Voice on Cultural Revolution II
Tenor banjo, baritone ukulele, mandolin, mandola, autoharp, guitars, bass, baritone and soprano recorders, clarinet, alto sax, piano, percussion, keyboards and programming | Robert Moss
Artwork and Design | Brad Eldridge